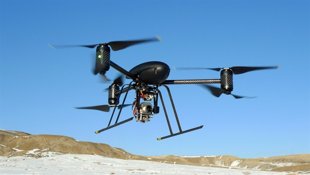 Small Draganflyer X6 drone – test flight in Mesa County, Colo.,in a Jan.8, 2009 file – from Yahoo News Blog Daily Brew
For decades I have spoken of your increasing loss of privacy and of major controls being put in place to monitor and track your movements and in the near future to even inventory the food you grow or water you keep on hand.  Within the next 8 months you will see this increase dramatically in Canada.
In the Etherean Travellers and the Magical Child I spoke about small airborne devices that would fly up highrises, photographing behind open and closed windows.  It is important that people be aware of the technologies that the powers that be have released information about, and of the ones they have not.  Peacefully voice objections in order to safeguard your privacy and freedom.