Supermoon May 5, 2012 – as seen over Vancouver, Canada.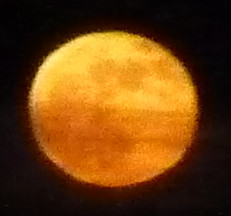 The supermoon on May 5, 2012 was an indicator for increased global earth change activity. 
On May 20, 2012 a very powerful solar eclipse will occur that will further set in motion universal and global energies as well as global conditions for earthquakes, tsunamis, major storms, floods, etc.;  problems with electronics and computers, and even war-like activity for those who are out of balance.  This eclipse will also effect changes in the consciousness of humanity, which will rise in coming years.
I ask all to pray for peace during this eclipse.  Ask for forgiveness for self and past actions as well as for forgiveness for others.  
Be a participant in creating peace, compassion and kindness for a new tomorrow.  Help to save the planet.  As I have forewarned in my prophecies, this is a time to "be in the know" and to be prepared for planetary adjustments.