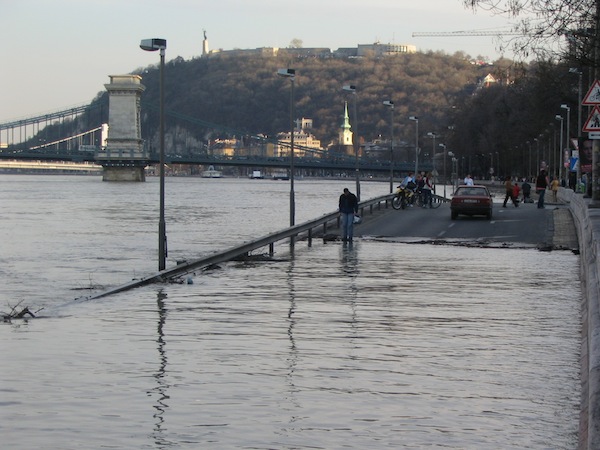 During recent flooding in Budapest, the Danube rose to 8.9 metres. Credit: Zoltán Dujisin/IPS
When all the kafuffle was going on about 2012 and the dire predictions that accompanied it, I told you not to worry.  Rather, I warned to watch for escalating global disasters mid 2013 onwards for this signals the beginning of the major changes taking place.  Let's take a look at some of what has been happening:
June 4, 2013 – Devastating top-of-the-scale EF5 twisters — Oklahoma – (http://www.cbc.ca/news/world/story/2013/06/04/wrd-oklahoma-tornado-size.html)
June 2013 – Massive floods in Central and Eastern Europe with the Danube and Elbe overflowing wreaked havoc and killed many (http://www.ipsnews.net/2013/06/europe-floods-are-here-to-stay/)
June 2013 – Catastrophic flooding – the worst in Alberta's history – hits Calgary and other areas (http://www.ctvnews.ca/photo-galleries/extreme-flooding-hits-alberta-1.1333754)  and extends into Saskatchewan (http://www.huffingtonpost.ca/2013/06/22/saskatchewan-flooding-2013_n_3483781.html) .  People who remember me saying in "The Etherean Travellers and the Magical Child" that people will have to tie up their boats in Saskatchewan are beginning to see how this will evolve.
July 8, 2013 – Heavy rains cause extensive flooding in Toronto (http://www.ctvnews.ca/canada/dramatic-photos-show-parts-of-toronto-underwater-1.1358806)
Watch for unusually hot weather in North America which indicates high earthquake risk.
You are seeing evidence of polar wobble activity.  If you watch closely the unusual weather patterns and global disasters taking place, evidence of this will increase.
As I have advised, be in wisdom and be prepared.