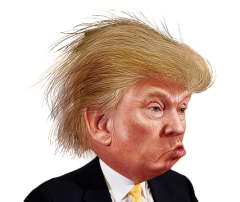 (Creator of Donald  Trump Image – Donkey Hotey)
Dear USA,
I am a voice from the past. I was known as "The Little Prophet Extraordinaire" during WW II. As a child. I gave prophetic information to the Dutch underground to help save many lives.
I call you all not to vote for Donald Trump. In my vision, I foresee he will bring great hardship for America and the world;  internal war with neighbor fighting neighbor, brother killing sister and brother; and even a break up of states within the USA and with the borders of Canada and Mexico.
His selfishness will tear the country to pieces.  He will be a disaster.
Donald Trump for beautiful America? No. Say no to Trump.
I believe he is like a Hitler in the make and in my visions I see him as the ultimate dictator.
The people in the USA are being deceived.
The Little Prophet Extraordinaire calls for America to say no to Donald Trump.