May I remind the Dalai Lama that Tibet has belonged to China for over 600 years.  It was part of China before your form of Buddhism was introduced some 350 to 400 years ago.
May I also remind you that the German educator in your youth, who was a right-hand man from Hitler who was strategically and intentionally put in place, misinformed you. 
We really do not want anyone to fulfil Hitler's wish to create from his vision a most horrific and destructive war with China, which would be the greatest horror this planet has ever witnessed. 
We must not forget that in the 1950s you were quite friendly with Mao Tse-tung and there was no argument then about Tibet and China.  For a long time China has been the supplier of infrastructure, food and medical aid in Tibet.
I say to the Dalai Lama that your teachings about Tibet are lacking.  I invite people to read "Unveiling Bloody Buddhism" by Dr. Shé D'Montford in past archive of Nexus Magazine.  You can also read, "Free Tibet Complexities" by Jenny Marsh to gain more   perspective.  Or conduct research yourself.  Become informed.  Make assessments and judgements out of knowledge and wisdom, not because of what is presented to you with candy coating.  No one is saying that China is guiltless, but the truth must be understood about the history of Buddhism in Tibet, including the skinning alive of young children and raping by lamas of young women prior to their wedding nights.
I am not anti-Buddhism.  One must understand, however, that the original Budah was here over 12,000 years ago and that the Dalai Lama's form of Buddhism has nothing to do with the original, which was spiritually evolved and of shamanic wisdom.
Please see below for photo and excerpt from the book, "The Treasures of Imperial Beijing," by Mario Sabattini and Nicoletta Celli.  It shows that Tibet and Mongolia were under China's umbrella from as far back as 1357.  If you read Chinese then you can see in the manifesto shown on the photo that Tibet belonged to China.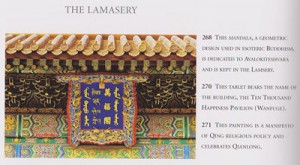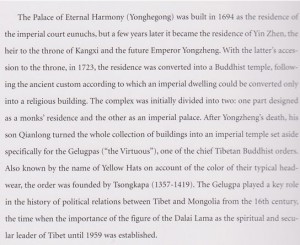 There is one Creator in the universe and you are living on one planet – like the billions of other human inhabitants here.  The world exists of all races, creeds and colours – all created by one Creator – intended to live in peace and harmony together, without segregation.  Certainly in the Dalai Lama's apparent desire to have all ethnic people, other than Tibetans, leave Tibetan Autonomous Region reeks of Hitlerism and the early papacy.   Remember the German slogan – Deutschland über alles – as a pure race.  Is that what you, the Dalai Lama, also want to create – a pure Tibetan race which would stifle all divine energies?  You can't have it both ways.  Your German teacher was confused and shows how demented Hitler was in his ideology.  Isn't it now time to release the Quan Yin energies in Tibet by pulling the deadly sword out of the divine meridian that travels through Tibet.
It is time to disband all religions or religious/spiritual philosophies that create hatred for others.  It is through compassion and kindness that we create harmony upon the planet. From our deepest spiritual being we can uplift all people upon the planet.
I wish great blessings upon all people of good, spiritual intent.